Services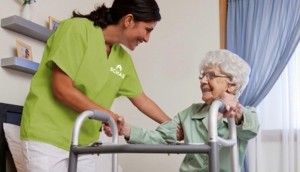 SCHAS caregivers specialize in helping our clients remain in clean, familiar surroundings, with well-prepared food and free from fear, boredom, and loneliness. SCHAS Caregivers are dedicated people who are carefully selected and trained. They provide companionship and needed assistance with light chores and housekeeping. SCHAS caregivers provide no skilled medical care but are skilled in making your loved one comfortable and happy in their home and you enjoy the peace of mind that comes from knowing your family member is well cared for.
Services listed below are provided by SCHAS Caregivers.  This list can't even begin to convey the benefits of having the quality care SCHAS provides.  Click the button below to contact us for information on how our services can improve the quality of life for your loved one.
---
COMPANIONSHIP

SCHAS Caregivers provide clients companionship and conversation. The physical and mental health, happiness and quality of life of seniors can be enhanced by having someone to share their time with.

GROCERY SHOPPING OR ERRANDS

SCHAS Caregivers shop for groceries at stores of their clients' preference and run errands, such as going to the post office or picking up medications. Clients may choose to stay home or go with the Caregiver.

LAUNDRY

Laundry chores can be a burden to everyone, but can be even more of a problem for the elderly or those that have physical limitations.  The ability to remove wet laundry from a machine can be extremely difficult for an elderly or disabled individual. Our caregiver can do laundry in either the client's home or the Laundromat. We make sure laundry is done according to the client's preferences.

LIGHT HOUSEKEEPING

MEDICATION REMINDERS

While SCHAS Caregivers cannot administer medications; they can remind clients to take their medication as prescribed. Taking medication inappropriately is one of the leading causes for hospital admission & readmission among the elderly.

PERSONAL CARE

SCHAS Caregivers assist with personal grooming tasks, such as bathing, washing, drying and combing hair, allowing the client to feel good about their personal appearance.

TOILETING AND INCONTINENCE CARE

SCHAS Caregivers strive to help clients maintain dignity and self-esteem as they receive help with sensitive issues such as incontinence. Caregivers handle the need for toiling assistance with compassion and sensitivity, striving to relieve embarrassment associated with incontinence and need for assistance.

TRANSPORTATION

SCHAS Caregivers provide transportation such as taking clients to medical appointments, barbershops, beauty salons, shopping, or wherever else a client wants to go.

24-HOUR CARE

Through our 24-hour senior care service, caregiving responsibilities can be coordinated in shifts 24 hours a day. This around the clock care gives family members peace of mind knowing there are no gaps in assistance for their loved one. Services can be tailored to meet each client's needs. This type of care is ideal for clients who are at risk when unattended, such as persons with Alzheimer's or other dementia-related conditions.

RESPITE CARE FOR FAMILY

Caregiving can be a demanding job in light of life's other responsibilities and most people are not able to do it alone.  Family caregivers can benefit from a little time off now and then. Respite service can be scheduled as needed to provide family caregivers needed personal time.

Services may last from a few hours to 24-hour care. This provides time for family caregivers to get some much-needed rest. They have time needed to run errands, make appointments, or just enjoy an evening or afternoon out, or even take a vacation.  The loved one is able to stay in their own home where they are comfortable, or in Renaissance Terrace Assisted Living, which is owned and operated by SCHAS.

This popular service can be invaluable for caregivers.  SCHAS takes the worry out of choosing someone to stay with your loved one by carefully screening and training all of our Caregivers thoroughly before placing them in your home. You can rest assured that your loved one is being well cared for while you take care of yourself!   

Medical insurance in the U.S. generally does not cover overnight respite,
long-term care policies and veterans' programs may subsidize care.

Contact us today for more information about respite care for your loved one.

SALON SERVICES

If you find it difficult to get to the Salon or Barber Shop, SCHAS has the answer!
A Salon That Comes To You.    This service is available in the: home. hospital, nursing home, or wherever you need it.

At this time  the hair care services are available in Knox and Loudon Counties.

Contact us for more information.

SCHAS ON CALL

Once it was common for families to live near each other and caring for  loved ones was not a problem. Today around 15% of the people caring for aging family members live over an hour away from their loved one.  More families than ever are finding themselves torn between caring for aging loved ones while still raising their own children and working a job.
It may be difficult for you to make daily contact with your family member between visits.  SCHAS On Call is the answer.
SCHAS On Call is free to our clients and can be added to the services that they already receive.  Each day, at a pre-arranged time, SCHAS will place a wellness call to our client, if there is no answer, a call can be made to the designated emergency contact.  This service provides a level of comfort to the family, allowing them to know that someone will be checking on their loved one every day.

Contact Us for more Information.