Meet The SCHAS Caregiver.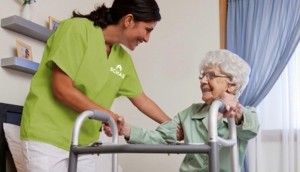 When the time comes to bring a caregiver into your home you want to know that that person will be someone you can be comfortable with. SCHAS understands that it is not an easy decision to make and we want to make this decision as simple as possible for our clients.
We remove uncertainty for our clients by selecting only the best caregivers possible through our recruitment, interviewing, thorough background screening, and training process.
SCHAS works at exceeding state licensure requirements. SCHAS is the only accredited support agency in our area.
Our caregivers receive in-depth training before we place them in the home of our clients. Training doesn't just end there. Caregivers attend monthly in-services where they receive up to date information on caring for our clients.
We want our caregivers to be the best they can be. We strive to insure that they are well informed about their clients individual needs and how to best meet those needs. We understand that the relationship between client and caregiver is an important one and we work hard to make sure that we place a caregiver in your home that provides you with the peace of mind you are looking for.
We are always looking for quality people to join our team. If you are interested in a career as a caregiver know that SCHAS offers competitive pay and a personally rewarding work environment where you can truly feel good about what you are doing.
A SCHAS Caregiver is:
Able to maintain a positive attitude and upbeat personality
Able to pass a thorough background screening
Able to pass a physical and drug screening
Able to provide evidence of a driver's license and automobile insurance
Punctual
Dependable
Organized
Resourceful
A good communicator, (can read, write and speak English well enough to fulfill job requirements.)
Confident
Professional
Flexible
Patient
Self-motivated
Has a respectful attitude
Discrete
Honest
If you would like more information on bringing our Caregivers into your home to assist you click below
and fill out the form to receive more information about SCHAS Services.
You will be contacted by someone from our Intake Team. You may call 865-523-2920 and request to speak to someone if you prefer.
If you are interested in a rewarding career as a SCHAS caregiver apply below or call 865-523-2920 for more information.